Company Overview:

CopperCAD Design was founded to service the increasing demand that OEM's are placing on PCB Design resources. Our dedicated professional staff, with over 60 years design experience, can handle all your needs from simple thru hole design to the most complex high speed digital circuitry. At CopperCAD Design, we provide everything you need from designing PCBs to creating customized Cadence Allegro SKILL programs to get your product on time the first time. You can count on us to provide cost effective solutions that will optimize your investment.

CopperCAD Design has partnered with the Cadence and Zuken toolsets to provide you the best balance of experience and tools on the market today.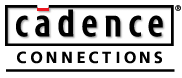 Member since 2000

Mission Statement:

Our mission is to partner with our customers to provide an outsource alternative to their overload demands. It is our ambition to produce the best possible design in an interval which will allow you to meet your "time to market" needs.